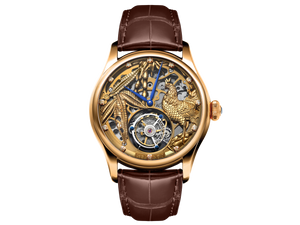 Memorigin Zodiac Series Rooster
Zodiac Series Rooster
There is an old saying that "The planning for a day starts in the morning and the planning for a year starts in the spring." In ancient times, people worked according to the sunrise and sunset. Back before watches and alarm jolted us awake, the rooster crow every morning to perform the duty. This links the image between rooster and time. In addition, rooster also stands an important position in the Chinese culture which is dominated by farming and animal herding. Whenever worshipping ancestors and major festivals, people will surely sacrifice offerings of roosters. Therefore, it has the role as one of the twelve zodiac signs.
2017 is the Year of the Rooster. Memorigin, Hong Kong Tourbillon brand, has the sixth new member for the zodiac series - Rooster tourbillon. Based on the design of the previous carving style, we apply the traditional woodcarving skills on the dial. From the ancient times, the form of the rooster stands as one of the pieces of art, particularly in France. The image of "Rooster" is not limited to the category of poultry. Therefore, the designer collects different types of data and integrates painting into the watch. Although there is an artistic conception, how to get the sculpture to be carried out with great ease is a challenge to Memorigin. After one year of repeated carving, the Tourbillon R&D room of Memorigin finally completed the carving of the dial. The feathers on the rooster were also presented in detail. Chinese paintings and art works always use bamboo to represents the gentleman. In order to creates superior effect to the watch users, not only the standing gesture of rooster, even the insects lies on the bamboo leaves were carved on the dial in great detail.
About the movement of this series, the craftsmen selected 40-hour power storage and a center tourbillon movement with an oscillation frequency of 28,800 times per hour. With a tourbillon at 6 o'clock, the trademark was scribed on the tourbillon without affecting the stability of movement. So, it makes Memorigin's tourbillon more special. While the tourbillon rotates strongly, you can appreciate the craftmanship of the watch. It can be the story that belongs to you.
Model no.: MO 1223
Diameter: approx. 43mm
Frequency: 28,800 Oscillation/ Hour
155 pieces of subassembly module and 18 jewels
12 pieces of diamond on the dial
Exquisite Rooster's embossment on the dial
The tourbillon located at 6 o'clock rotate at a speed of 60s for one circle
40hours power reserve
Flying Tourbillon
The balance wheel and the escapement system encircle the center of balance wheel
Both sides sapphire crystal
Alligator strap
Ref. 4894379202313
---
We Also Recommend