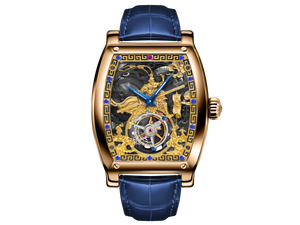 Memorigin Zodiac Series Monkey (Special Edition)
Zodiac Series Monkey (Special Edition)
Chinese martial arts include not only fighting techniques, offensive and defensive strategies, but also has strong Chinese culture and philosophy. Mr. Louis Fan Siu Wong, the famous artist, was addicted to martial arts and is proficient in it. He performed in many martial arts' roles as well as loving to study Chinese culture. In 2015, Memorigin, the Tourbillon brand of Hong Kong, invited Louis to design a tourbillon with a martial arts theme. As it was also the Year of the Monkey in 2016, we decided used the character of in the Chinese classic "Journey to the West" to create. It created a collection of Tourbillon zodiac watch series - Year of the Monkey Special Edition: Monkey King.
In the Chinese classic "Journey to the West", the Monkey king is very well-known in the story. Louis designed the dial of the watch. In the heaven palace, the Monkey King is holding a diamond stick with clouds and goes through the clouds to the Temple. The monkey soldiers are cheering and making noise. The role of Monkey king in "Journey to the West" is purely fictitious. In order to make it more realistic by the sculpting craftsmen, Louis personally imitated the character of Monkey king during the design process. After repeated improvement and costing one hundred parts damage, each carving process is meticulous in order to make the dial to have a three-dimensional effect of the fine appearance. The craftsmen also worked hard on the splint part, spent all their time on completing the sculpture of the dial. In order to present an eye-catching effect, the dial is embedded with eleven sapphires and a ruby as a time index. The Chinese fretwork lines are used to decorate around the dia. The curved three-dimensional plated rose gold barrel case firmly encloses the movement. It simply brings out Chinese cultural elements. The designer finally shows the part of the Tourbillon gently and placed it at the 6 o'clock position at the foot of the carving of the Monkey King. Using the rotation of dynamic movement, it makes the sculpture more lifelike and full of style.
This watch is the self-winding tourbillon and specially crafted by Memorigin. The back of the movement which sculpts the "皇" and "FJ" represents the Louis and his cultural Studio. The manual winding is also provided which gives the watch lovers more flexibility. It enables them to appreciate the fun of manual winding and the convenience of automatic winding. Even if the watch is occasionally not used, the watch can still operate normally for 40 hours without manual winding, avoiding the inconvenience of constantly adjusting the time. The sapphire blue alligator strap is perfectly matched with a rose gold-plated barrel case, which is full of sense of maturity and fashion.
Model no.: FJ 0619
frequency: 28,800 Oscillation/ Hour
192 pieces of subassembly module and 18 jewels
11 pieces of natural sapphires and 1 ruby on the dial
Exquisite "Monkey King" embossment on the dial
The tourbillon located at 6 o'clock rotate at a speed of 60s for one circle
40 hours power reserve
Self-winding mechanism (Bi-Directional Winding)
Flying tourbillon
Both sides sapphire crystal
Alligator strap
Ref. 4894379700144
---
We Also Recommend