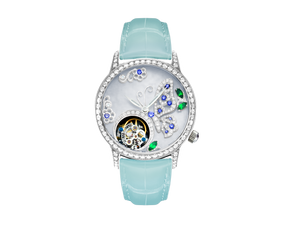 Memorigin Waltz Series Lady
Waltz Series
In the watch market, you can always find a timepiece for men to wear. However, for ladies, it is not the same story. In majority, most of the brands aim to attract the male customers through the complicated machinery, delicate design and fine craftsmanship. In addition, the accuracy, the total number of the assembling components and assembling processes are attracting men strongly. On the other hand, the focuses of ladies are rather on the appearance and utility of the watches. Not only is it eye-catching, but it also should be fashionable to match with different costumes. As time is changing, more ladies start to collect the timepieces and admire the beauty of machinery. Apart from the appearance, they will care more about the craftsmanship. If the design and the mechanism of the timepiece are wonderful, they will definitely treat it as invaluable masterpiece.
Is tourbillon only for Men's market? Simply, NO!
In the market who is dominated by men's collections, finding a lady's tourbillon watch is not easy. In 2015, Memorigin launched this Waltz Series that has broken the tradition. While the tourbillon mechanism is rotating, the wings of the butterfly are flapping like dancing in the flower field. Another phase of the complicated mechanical watch is showcased expressing the lady's sweet and tender. Memorigin designer spent long time to study that tends to give a life to the butterfly on the dial. Only does designer engrave an image of butterfly is relatively simple. To make it real, it is difficult. To let the wings flap while people wear it, it is the main task for the designer. Finally, designer made it. With embedded over 100 pieces of diamonds on the entire watch totally (total weight over 2 carat), especially on the butterfly, the sparking of flapping wings are that you cannot resist.
As the size of ladies' watch is small, the assembling procedure is more complex than making a men's watch. In order to provide a highly stable timepiece, Memorigin aims to launch the tourbillon movement in a frequency of 28,800 oscillations per hour. The off-center tourbillon gives an intense momentum from the appearance. On the craftsmanship and sense of art basis, it fulfills all the requirements of ladies. It adds an extra meaning on the collective value.
Watch No.: ST0617
Watch diameter: approx. 35mm
Diamond quantity: 153 pcs (Total Weight: 2.01 Carat)
Sapphire quantity: 10 pcs (Total Weight: 0.30 Carat)
Emerald quantity: 3 pcs (Total Weight: 0.30 Carat)
Butterfly shaped model on the dial
At least 158 pieces of subassembly module and 23 jewels
Frequency: 28,800 Oscillation/Hour
The tourbillon located at 7 o'clock rotate at a speed of 60s for one circle
Off-center tourbillon
60 hours power reserve
Alligator Strap
Diamond on crown
Both sides sapphire crystal
Ref: 4894379221748
---
We Also Recommend