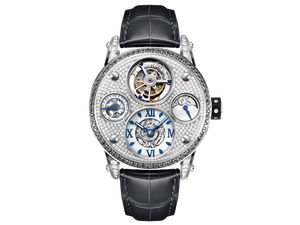 Memorigin The Precious Time Machine Series
The Precious Time Machine Series
Memorigin works with the famous Hong Kong musician and designer Mr. Mark Lui in 2014, to produce a tourbillon watch. The ideas of his series are from the 19th-century "Steampunk" and to make the complicated device of the Tourbillon which successfully designed a conceptual tourbillon watch - Time Machine. As this watch design is the first time he designed tourbillon watch, it is meaningful to him. By the arrival of Mother's Day in 2016, he once again started to design watches for offering a unique gift for the world's female, especially for his wife, Mrs. Jade Lui, "The Precious Time Machine". To present his appreciation of his wife's  hard work for the Family.
The status of women in the family is incomparable. It is the best to send diamonds to women as present. As a superwoman, Mrs. Jade Lui not only appeared in the TV cooking program, but also takes the great role of a good wife and mother. Besides diamonds, Mr. Mark redesigns his first art work – The Time Machine. Mark added feminine elements on this stylish and classic, noble and rugged watch. 292 diamonds and 72 black gems are embedded on the dial. There are four chimney-shaped pillars that stand on the dial in different heights. These columnar windows are like chimneys of the factory. They were inspired by the word "Steampunk" and represent human beings who dare to create the scientific myth of the "steam" of industrial revolution. They like telescopes to show the inside of mechanical mysteries. They also use diamonds as metaphors of woman which tells women's indispensable position in history and jointly create this industrial myth.
The case is mainly made of silvery white which makes the watch easier to match the women's fashion. The precious time machine has three design versions with pink gemstones, light sapphires and black jewels respectively, which match different style. Watches not only perform timekeeping function, but also as an art piece and read the story behind. It also means the precious time for those you love. Even though time cannot be stopped, but the memories are eternal. Mr. Mark Lui has the best time with his wife. He wishes that the watch can enable the owner creates precious time and eternal memories.
Model No.: ST 0147
Diamond Quantity: 292 pcs 
Diamond Weight: 1.24 carat 
Sapphire Quantity: 72pcs 
Sapphire Weight: 1.06 carat
188 pieces of subassembly module and 21 jewels
Frequency: 28,800 Oscillation/Hour
The tourbillon located at 12 o'clock rotate at a speed of 60s for one circle
60 hours power reserve
24 hours indicator
Flying Tourbillon
Twin mainspring barrel
Power reserve indicator
The balance wheel and the escapement system encircle the center of balance wheel
Black Alligator Strap
Both Sides Sapphire Crystal
Ref. 4894379500744
---
We Also Recommend