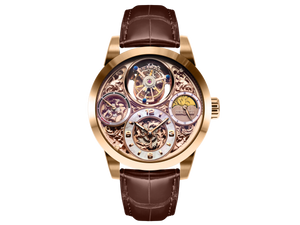 Memorigin Starlit Legend Series Imperial
Throughout the entire watch, the design of appearance is similar to the classic ancient architectures in the Western palace. Designer projected the design of the column in the palace on the skeleton pattern of the dial. On the 3 o'clock position, the moon and sun face of the day-light indicator are like the ancient mural's content.
Especially, the watch is different to previous watch collections that the matte effect watch-case is presented. On the 12 o'clock position, you can easily find the trade-mark of Memorigin on the balance wheel of the tourbillon. Without affecting the stability of the tourbillon working, this unique feature differentiates the Memorigin's tourbillon watch from the others in the market. Every Starlit Legend Series – Imperial tourbillon watch will be with a crocodile leather strap (large-grid). This is the watch that you should own.
Movement No: MO 1231
Movement diameter: 36 mm
At least 188 pieces of subassembly module and 21
jewels
Frequency: 28,800 Oscillation/Hour
The tourbillon located at 12 o'clock rotate at a speed of
60s for one circle
70 hours power reserve
24 hours indicator
Flying tourbillon
Twin mainspring barrel
Power reserve indicator
Day / night indicator
The balance wheel and the escapement system encircle
the center of balance wheel
Crocodile leather strap (large-grid)
Both sides sapphire crystal

Rose gold plated classic type of stainless steel case
Diameter: approx. 43 mm
Dial (Mother of pearl) in ancient skeleton
Rose gold plated luminous dauphine hands
Rose gold plated index
---
We Also Recommend