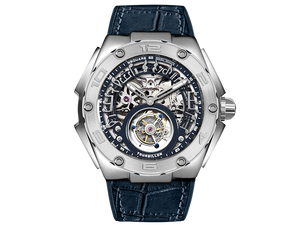 Memorigin Ronald Cheng Series
Ronald Cheng Series
For the first time, Ronald Cheng Chung Kei became a designer to collaborate with Memorigin, the Hong Kong Tourbillon watch brand. He designed a series of two different styles of watches based on the concept of his own song " Time, People, Place ". This series is equipped with a large special metal case with a diameter of 46 mm. The outer frame on the front of the case is reinforced with a metallic feel, and the time index is engraved on the outer frame to make the whole watch more tough and practical. With a sophisticated tourbillon movement, it creates a sense of freshness. The design of the dial is inspired by the music and notes, expressing the meaning of music to Cheng Chung Kei. Whenever the chain of watch is wound, the center tourbillon at 6 o'clock position is rotated strongly, just like the movement of walking.
The collection also features two different styles of color with a silver-tone case and a light blue rubber strap with alligator skin surface for a stylish and youthful look. Another one is the black case with gold lines, classic and engraved with watch lines.
Through his wristwatch to sculpt his life experience, remind himself of his passion for music, and use his own experience to tell everyone that he has become a better person with his own efforts.
Model No.: MO 0905
Movement diameter: 46 mm
155 pieces of subassembly module and 18 jewels
Frequency: 28,800 Oscillation/Hour
The tourbillon located at 6 o'clock rotate at a speed of 60s for one circle
40 hours power reserve
Flying Tourbillon
Sliver skeleton dial
Stainless-steel multi-layers case and bezel
Blue rubber strap with alligator skin surface
Sliver plated arrow shaped hands
Both sides sapphire crystal
Ref: 4894379790640
---
We Also Recommend