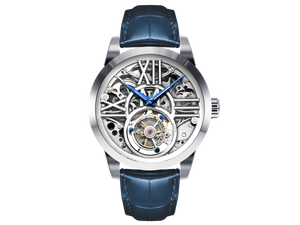 Memorigin M-Series
M-Series
In 2015, Memorigin developed the annual present – M Series tourbillon watch. A new stylish model and clean design that gave a new definition to the skeletal design.
Spending a long time on analyzing, M-Series is launched under several times of tuning and fixing the difficulties. Designers put 2 main elements on the watch's philosophy – transparency and balance. Through the skeleton of the movement and dial, the Roman index at 3, 9 and 12 o'clock is expressed in skeletal structure. These made the attention go to the tourbillon part at the 6 o'clock position. The contrast drives you to see the heavy rotation of the flying tourbillon in 28800 oscillations per hour. The M-Series is assembled with at least 155 pieces of subassembly module, 18 jewels and 40 hours power reserve.
The balance between complexity and clean design is fairly well in this way. The complicated hundred parts are showcased clearly under the skeletal dial.
Movement No.: MO 0418
Watch diameter: approx.43mm
Classic type of stainless steel case
At least 155 pieces of subassembly module and 18 jewels
Frequency: 28,800 Oscillation/Hour
The tourbillon located at 6 o'clock rotate at a speed of 60s for one circle
Flying Tourbillon
40 hours power reserve
Blue pomme of luminous dauphine hands
Skeletal dial
Alligator strap
Both sides sapphire crystal
---
We Also Recommend