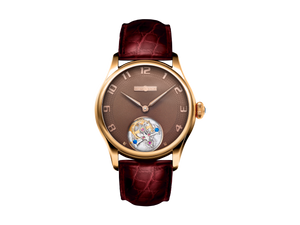 Memorigin Lady Series
Lady Series
All women are beautiful. Each stage of woman's life has its own beauty. Memorigin, the Hong Kong's tourbillon watch brand, presents the lady series with different styles of ladies' beauty as design elements. It has the simple styles for independent ladies, gentle design for office ladies, elegant design for mature ladies, etc. This series add gemstones with different color on the dial. It is always a perfect watch for you.
The lady series have many different styles including the mother of pearl dial, the delicate Chinese antique, the elegant skeleton design and the classic Guilloché wave lines. The sapphire glass is used on the bottom of the watch to make the movement more visible. As the light can travels between the parts of watch. It likes chasing time and leaving a timeline to interpret the meaning of beauty.
As the size of this lady series is smaller than that of the men's one, it increases the difficulty of inserting the parts into the watch. Memorigin take the challenges of technology and develops a high stability with 28,800 vibrations per hour of movement. The dynamic appearance of the off-centered tourbillon is satisfying the needs of female customers who are always pursuing the combination of craftsmanship and beauty. More and more ladies like to collect watches. Watches become a must-have-item to make you look more fashionable.
Movement No.: MO 0612
Minimum thickness: 5.1 mm
Diameter approx. 35mm
Movement diameter: 30 mm
Frequency: 28,800 Oscillation/Hour
Off-centered Tourbillon
158 pieces of subassembly module
23 jewels
The tourbillon located at 6 o'clock rotate at a speed of 60s for one circle
60 hours power reserve
Alligator Strap
Both sides sapphire crystal
Rose gold plated contemporary type stainless steel case
Cigar dial with Guilloché sculpture lines
Rose gold plated dauphine hands
Rose gold plated Arabic index
Ref. 4894379120416
---
We Also Recommend