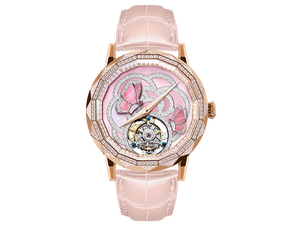 Memorigin Evolving Butterfly Series
Evolving Butterfly Series
The ordinary girl embarked on the extraordinary dream journey of life, turned into a beautiful butterfly, blooming and attractive. Jin Ling, the Great China Director of Memorigin, has the reputation of "the first person in China's charity auction", is a singer, a "The Golden Microphone" host, and the first "Gold Mallet Award" auctioneer in China. At home she is the mother of two children. A few years ago, she decided to stop working for three years as a full-time mother. She, who likes to accept different challenges, will not be satisfied with the status quo, and would like to start with a new dream. She said: "In every challenge, I will start from zero, learn again, grow again and then break through."
For the first time, Jin Ling participated in the design of the tourbillon with Memorigin.  With her experience in music and auctioning, she created the "Evolving butterfly" series.  On the elegant mother-of-pearl dial, the beautiful Camellia pattern is built with beautiful diamonds. The head of the butterfly is a Burmese ruby, with soft wings made of mother-of-pearl, and the edges of the wings are decorated with diamonds to create a wonderful picture. The tourbillon window at 6 o'clock adds a sense of movement to the watch and also symbolizes different challenges in life. As a woman, we must face up to difficulties, accumulate different experiences, and become a wise butterfly.
Women experience different kinds of life, will shine like diamonds. The case is discarded with a sleek, polished shape, cut with bold horns, like a flower, echoing the dial of the diamond Camellia pattern.  In addition to the highlights, the craftsman's ingenuity is even more evident. The case is studded with sparkling diamonds, which shine brightly under the sun, just like a charming woman.
Memorigin has chosen a movement with a frequency of 28,800 vibrations per hour for this series of watches. It is stable and accurate, with 72 hours of power reserve. This watch is available in pink and pink-blue dials, that can be worn with different color straps to make it easy for intellectual ladies to wear a variety of fashionable styles. Whether it is for work or holiday, you can show the feminine beauty of women.
In order to help more people who are passionate about music, Memorigin and Jin Ling has donated some of the proceeds to singer Jade Kwan Sum Yin's NGO "Shining Life Limited".  In addition to enabling children to receive music therapy, it also helps low-income families enjoying the fun of music.
Watch No.: ST 1124
Diameter: 43mm
Frequency: 28,800 Oscillation/Hour
Diamond Quantity: approx. 359pcs
Diamond Weight: approx. 2.47 Carat
18k pink gold butterfly featured decoration: 2g
153 pieces of subassembly module and 25 jewels
The tourbillon located at 6 o'clock rotate at a speed of 60s for one circle
72 hours power reserve
Flying tourbillon
PVD pink gold-plated stainless-Steel Case (2 layers of diamond bezel)
Diamond mounted mother-of-pearl dial
PVD pink gold-plated luminous hands
Both sides sapphire crystal
Alligator strap
Ref: 4894379226040
---
We Also Recommend