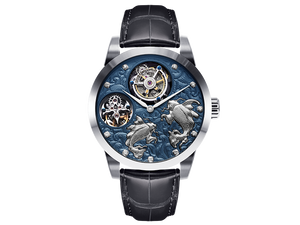 Memorigin Dual Tourbillon Series – Pisces and Pearls
Dual Tourbillon Series – Pisces and Pearls
The "Carp" has a symbolic meaning of auspiciousness in Chinese people, representing opportunities everywhere and living in abundance. "Carp" and "Li" sound similar to" Yu -beneficial" and "Yue - abundance". So, Carp is also used to symbolize the revenue and profits in business, which is a very good omen! Memorigin, the Hong Kong Tourbillon watch brand, has always been committed to promote the Chinese culture and has integrated into the watchmaking craftsmanship of the top tourbillons in the West, creating the " Pisces and Pearls" series of watches, bringing blessings to everyone.
The dial is engraved with a very detailed wave pattern depicting the fast-flowing Yellow River.  There are two glittering gold-plated carps embossed and each scale is carved meticulously. The carp not only implied good deeds but they are also leaping out of the water, symbolic of prosperity, promotion and wealth.
The Carp loves to go upstream, and Memorigin has the courage to accept the challenge, eliminate all difficulties, and strive to improve the spirit of the tourbillon watchmaking technology.  After years of hard working, the brand has successfully developed a more precise, more ornamental double tourbillon movement and the watchmaking process has reached a high level!  Consisting of two independent high-frequency cantilever center tourbillons and flying tourbillon mechanisms, the asymmetry differential mechanism theory is used to average the running speeds of the two balances to obtain excellent travel time accuracy and strong visual impact. The tourbillon movement reaches 28,800 Oscillation per hour with 40 hours of power reserve which is powerful both inside and outside!
The two tourbillons that are constantly rotating in the waves like precious pearls. The two fishes play together in the river, chasing the jewel, adding a sense of movement to the picture of " Pisces and Pearls", bringing a strong visual impact, also has the meaning of good fortune! Wearing the " Pisces and Pearls " watch help you to manage your skills and achieve "a year of abundance!"
Model No.: DT 1026
Case diameter: 43 mm
Case Thickness: 12.9mm
Movement diameter: 36mm
Diamond quantity: 10pcs
Diamond weight: approx. 0.11ct
221 pieces of subassembly module and 35 jewels
Frequency: 28,800 Oscillation/Hour
The tourbillons located at 9 o'clock and 12 o'clock rotate at a speed of 60s for one circle
The balance wheel and the escapement system encircle the center of balance wheel
Flying Tourbillon
40 hours power reserve
Stainless steel case
Alligator Strap
Both sides sapphire crystal
Diamond Time Index
Silver plated dauphine hands
Ref. 4894379661018
---
We Also Recommend